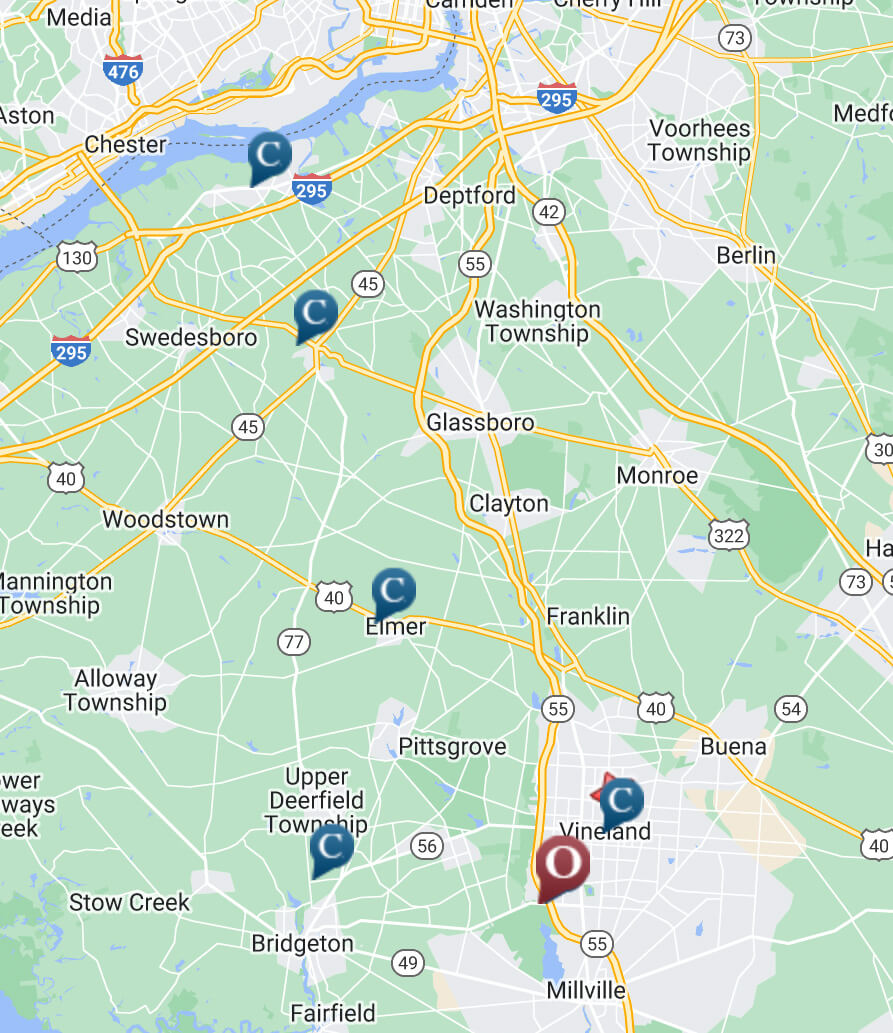 Since 1865
Since its humble beginnings in 1865, Century Savings Bank has grown from a small building and loan association in Bridgeton, NJ with just a few thousand dollars, to a friendly, multi-million dollar financial force operating from a network of six branches throughout southern New Jersey with locations in Elmer, Gibbstown, Mullica Hill, Upper Deerfield Twp., and Vineland.
Better Banking, Personal Service, and Community Contribution
Although we're proud to have totals assets of several hundred million dollars, at Century Savings Bank we've always considered our customers and associates to be our greatest asset. We've never thought of ourselves as simply a bank. More than just dollars and cents, our organization values these relationships, which is why we are committed to providing Community Banking Plus –it's our pledge to provide better banking products, an unmatched level of personal service, and meaningful contributions to the community.
Century Savings Bank offers South Jersey residents the combination of traditional consumer banking products including: checking, savings and personal loans, a complete line of commercial banking and lending services; and the latest in banking technology, including: mobile banking, online bill pay, and a full suite of cash management tools and services.
From raising awareness and monies for non-profit organizations, to donating meals, fresh produce, and school supplies for our neighbors, award-winning Century Savings Bank offers true community banking plus; and as we enter our 158th year in 2023, we are committed to making that "plus" mean more than ever before, with: more convenient services, like mobile banking; more money available for loans, mortgages, and lines of credit; more charity initiatives; and even more community-oriented outreach.
Six Branches to Serve You
There are currently six Century Savings Bank branches serving the region. The Landis Avenue location was Century Savings Bank's third branch and first location in Vineland. In 2007, the Bank built its flagship branch and headquarters adjacent to Cumberland County College and the Inspira Health System in southwest Vineland; and in 2010, Century's newest location was built in Upper Deerfield Township. Many local residents have come to rely upon Century Savings Bank as a cornerstone of financial strength and support.
Century Savings Bank is proud of its record of strength and stability. The bank proudly maintains Bauer Financial's Superiority Status, earned by sustaining its 5-Star rating for over 30 years. This distinction is received by fewer than 10 percent of the nation's banks. To achieve this mark, Century has consistently maintained the highest standards in capital adequacy, asset quality, stability, and more. Century Savings Bank has also received multiple New Jersey Bankers' Community Service Awards in recognition of the bank's community service efforts.
Century understands that strong neighborhoods are vital to the well-being of our society and economy, so each year we donate thousands of dollars in support of programs designed to benefit our neighbors and revitalize our community. From basic needs and healthcare, to education and culture – Century is proud to partner with a diverse group of not-for-profit organizations to both address the critical needs of, and create more vibrant communities throughout South Jersey. We're also proud to say that many of our employees donate their time and talents as community advocates as well.
At Century Savings Bank our unwavering, yet forward-thinking commitment to provide more is something that makes us quite different. Maybe that's why we're one of America's oldest banks.